Bigger, faster, stronger. These 3 words mean a lot in the military world. There has been a real race over the centuries between nations who worked tirelessly to engineer and build the biggest militaries with the strongest weaponry. This competitive nature is probably best seen in the navies of many countries. Having a large navy and state-of-the-art ships is definitely a symbol of wealth and power, reflecting that nation's ability to defend itself, impose its will on others or simply influence the rest of the world.
A capable navy remains an important tool that can be used in deploying military forces around the world, controlling areas or sending political messages to another country. Due to the airpower, nuclear weapons and space technology that evolved throughout the 20th century, the navy changed into a redoubtable force.
Each navy in the world has different types of ships that make up its fleet. Big ships have always been show stealers. It is easy to see why, with all their huge guns, missiles, and their gargantuan proportions. They are no doubt the ultimate expression of a country's power and ability.
From the Heaviest to the Longest
(Left) Yamato during sea trials off Japan near Bungo Strait, 20 October 1941. This photo is part of the records in the Yamato Museum.(Right) Musashi leaving Brunei for the Battle of Leyte Gulf (in October 1944).
Modern navy ships today dwarf most warships built during the Second World War. The largest warship of World War 2, in terms of tonnage, was the 72,800 ton, 862 foot-long Musashi, a Yamato-class battleship belonging to the Imperial Japanese Navy. Her sister ship, the Yamato did not fall behind too much: it weighed 71,659 tons and measured 862 feet. However, today the Yamato-class ships seem small in comparison to the 100,000-ton aircraft commonly seen in the US Navy. Here are the top 5 longest warships in the world:
5. USS Independence (CV-62)
Vessel classification: Forrestal-class aircraft carrier
State: It will be towed
Laid down: 1 July 1955
Launch Date: 6 June 1958
Commissioning Date: 10 January 1959
Decommissioning Date: 30 September 1998
Displacement: 80,643 long tons
Beam: 130.0 ft (39.63 m) waterline, 270 ft (82.3 m) extreme
Length: 1,070 ft (326.1 m)
Propulsion Details: 4 Westinghouse geared turbines, 4 shafts
Maximum Speed: 33 knots (61 km/h)
Range: 8,000 nautical miles (15,000 km) at 20 knots (37 km/h)
Complement: 3,126 (ship's crew) plus, 2,089 (air wing) plus, 70 (flag staff) plus, 72 (Marines)
Military Equipment: 8 x 5"/54 caliber Mark 42 guns (127 mm) (removed by the early 1970s), 2 x 8 NATO Sea Sparrow, 3 x Phalanx CIWS
The 5th USS Independence (CV/CVA-62) was an aircraft carrier of the United States Navy. This was the 4th and last Forrestal vessel belonging to a class of supercarriers that were conventionally powered. Slightly bigger than the USS Forrestal (CV-59), the ship entered service in 1959 and spent its early years in the Mediterranean Fleet. After 39 years of active service, the Independence was decommissioned in 1998 and it is currently stored at Bremerton, Washington. It will be towed in late 2016 to Brownsville, Texas to be dismantled.
4. USS Kitty Hawk (CV-63)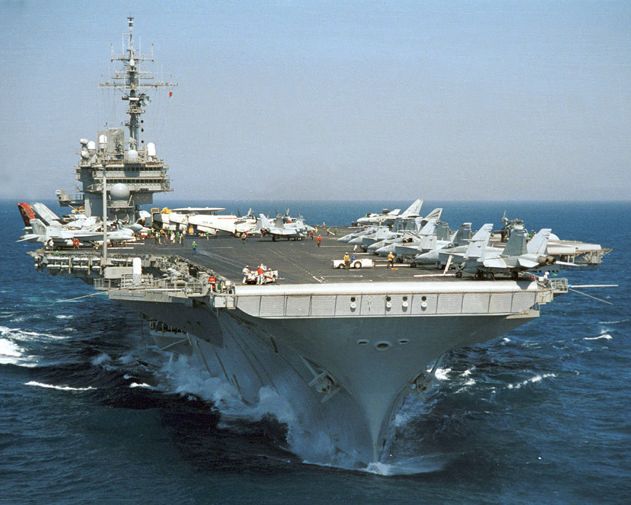 Vessel Classification: class aircraft carrier
State: Inactive
It was laid down in: 1956, December 27th
Launch Date: 21 May 1960
Commissioning date: 29 April 1961
Decommissioning date: 12 May 2009
Reclassified as CV-63 in 29 April 1973
Homeport: Puget Sound Naval Shipyard
Displacement: 81,985 long tons (83,301 t) full load
Beam: 282 ft (86 m) extreme, 130 ft (40 m) waterline
Length: 1,068.9 ft (325.8 m) LOA
Draft: 38 ft (12 m)
Propulsion: Westinghouse geared steam turbines, 4 shafts
Maximum Speed: 33 knots (61 km/h)
Complement: 5,624 people
Armament details: Kitty Hawk was contained among others 2 Phalanx CIWS. It hadautomated anti-missile, aircraft defense.
The USS Kitty Hawk (CV-63) is the second vessel whose name was inspired by Kitty Hawk, North Carolina. It was the last oil-fired aircraft carrier that served the US Navy, and the first and last active vessel from its category. During its launch, this ship's dry dock was flooded. This procedure was chosen due to the fact that the slide method was not applicable given her mass and the possibility to hit the Philadelphia shore.
On 30 September 1998, the Independence was decommissioned. Consequently, Kitty Hawk's active status became the longest of all the US warships, preceded only by the USS Constitution. Nonetheless, it was passed in 2012 by the Enterprise. These 2 carriers were 2 of the 3 that flew the First Navy Jack. Her decommissioning occurred on 12 May 2009, after almost 50 years of service. Then, the USS George H.W. Bush took her place.
3. USS Nimitz (CVN-68)
Vessel classification: Nimitz-class aircraft carrier
State: active
Cost: $1 billion (1975 dollars)
Laid down: 22 June 1968
Launch date: 13 May 1972
Commissioning date: 3 May 1975
Reclassified as: CVN-68
Homeport: Naval Base Kitsap
Displacement: 110,250 short tons
Beam: 252 ft (76.8 m)
Length: 1,092 feet (332.8 m)
Propulsion: 2 x Westinghouse A4W nuclear reactors
MaximumSpeed: 31.5 knots (58.3 km/h)
Range: Distance - unlimited; 20-25 years
Complement: 3,200 (ship's company), 2,480 (air wing)
Military Equipment: autocannon turrets and Gatling guns
Armor: Classified
The USS Nimitz (CVN-68) is a supercarrier. This is the lead ship of her class and one of the largest warships worldwide. The World War II Pacific fleet commander, Chester W. Nimitz, is the source of inspiration for this ship's name. In January 2015, the ship changed homeport from Naval Station Everett to Naval Base Kitsap. The Nimitz is now the oldest American carrier in active service after the USS Enterprise was inactivated (CVN-65) in 2012.
2. Gerald R. Ford (CVN-78)

Vessel Classification: aircraft carrier - Gerald R. Ford-class
Statue: Launched
Cost: estimated at $12.8 billion + $4.7 billion R&D
Laid down: on 13 November 2009
Launch Date: 9 November 2013
Christened: on 9 November 2013
Commissioning Date: After November 2016 (planned)
Displacement: 110,000 short tons
Length: 1,106 ft (337 m)
Beam: 134 ft (41 m) (waterline)
Height: almost 250 ft (76 m)
Propulsion: 4 shafts
Maximum Speed: 30 knots (56 km/h; 35 mph)
Range: unlimited distance; 20-25 years
Decks: 25
Complement: 4,660
Armament: CIWS, RIM-116 Rolling Airframe Missile
Facilities: 1,092 ft x 256 ft (333 m x 78 m) flight deck
Aircraft carried: Over 75
Gerald R. Ford (CVN-78) is the leading ship of its class among US Navy supercarriers. It is expected to be commissioned into the Navy in 2016. At the moment, it is a pre-commissioning unit (PCU). The ship will replace USS Enterprise (CVN-65) which became inactive in December 2012 after 51 years of service. 10 ships are expected in this class, but to date, only 3 have been announced:
This ship was named after Gerald R. Ford, the 38th President of the US. In 2009, on 13 November, its keel was laid down. The vessel started to be built on 11 August 2005. The side shell unit of this vessel is partially formed by a 15-ton plate which remembers the steel-cutting ceremony held by Northrop Grumman. In March 2016, the ship joined the US Navy. It will be deployed for the first time in 2019.
1. USS Enterprise (CVN-65)
Vessel Classification: Enterprise-class aircraft carrier
Statue: Inactive
Cost: $451.3 million (equivalent to $3.80 billion in 2015)
Laid down on 4 February 1958
Launch Date: 24 September 1960
Christened: 24 September 1960
Commissioning Date: 25 November 1961
Decommissioning Date: Scheduled for 2016
In service: from 12 January 1962until 1 December 2012
Reclassified as: CVN-65 from CVA(N)-65
Homeport: Naval Station Norfolk, Virginia
Displacement: 93,284 long tons (94,781 t) full load
Length: 1,123 ft (342 m)
Maximum Speed: 33.6 kn
Range: unlimited distance; 20-25 years
Armor: 8 in (20 cm) aluminum belt, as well as armored flight deck
It carried:90
Facilities: 1,123 ft (342 m) flight deck
Beam: 132.8 ft (40.5 m) (waterline), 257.2 ft (78.4 m) (extreme)
Propulsion: 8 Westinghouse A2W nuclear reactors
Complement: up to 5,828
Military Equipment: 2 NATO Sea Sparrow launchers &2 RAM launchers among others
The USS Enterprise (CVN-65), formerly known as CVA(N)-65, is an inactive US aircraft carrier. This was the first nuclear-powered aircraft carrier worldwide and the 8th US carrier that was named Enterprise. Its nickname is "Big E". This is the longest naval ship ever, being 1,123 ft (342 m) long. It is ranked as the 12th heaviest supercarrier, at 94,781 tons, being preceded by the 10 Nimitz class carriers and the USS Gerald R. Ford. This was the only vessel of its class, by the time it became inactive. It was also the 3rd oldest commissioned ship in the Navy, preceded by USS Pueblo and the USS Constitution.
---
Bonus:
The USS Zumwalt, the largest destroyer built for the US Navy.
The USS Zumwalt is a 610-foot, 15,000-ton ship named after decorated Naval officer Admiral Elmo Zumwalt, who died in 2000. The ship has already begun sea trials and is expected to join the US fleet this year. The ship comes with a hefty price of $4.4 billion but it is worth every penny. Zumwalt's stealth capabilities are remarkable; its radar can detect vessel as small as fishing boats.
This vessel's length exceeds the common length of the Navy's current destroyers by almost 100 feet and their width by 20 feet. It boasts more advanced weaponry than you can ever imagine: it is equipped with a computerized missile system which can reach targets up to 63 miles. It is also suitable for the integration of electromagnetic rail guns or laser weapons. 2 more ships will probably be built in the future in order to complement the Zumwalt class of battleships.
Have You Been Exposed to Asbestos in a Shipyard?
If you are a veteran and have worked in the US Navy, you might have been exposed to dangerous levels of asbestos. Our website is designed to help veterans and all individuals see if their ship or shipyard posed a threat to them. Call us at 760-621-6147 for assistance!