The USS Antietam is one of the guided missile cruisers that received the name of a battle that took place in 1862 in Maryland between the Confederates and the Union. It belongs to the Ticonderoga class and received the 2007 and 2008 Battle Efficiency Awards.
Its major capabilities allow the vessel to face any danger coming from the sky, from the shore, from the sea, or from under the sea. It also carries on board two Sikorsky SH-60 Seahawk LAMPS helicopters.
Its first missions were within the Naval Surface Group in the Pacific. Then, it moved to Carrier Group Three. In 2005, 2007, and 2009, the USS Antietam operated outside of San Diego, having the main missions in Hong Kong, Japan, South Korea, Singapore, Thailand, Guam, the Persian Gulf, Puerto Vallarta, and Hawaii.
In 2013, the USS Antietam was assigned to rescue people located in the Philippines after the place was struck by Super Typhoon Haiyan. The main locations where the rescue operations took place were Tacloban and Leyte Province. At the beginning of 2017, the ship beached in Tokyo Bay, but fortunately, no one suffered any injuries.
Technical Features of the USS Antietam (CG-54)
Class and type: Ticonderoga-class guided missile cruiser
Ordered: 20 June 1983
Laid down on water: 15 November 1984
Launched: 14 February 1986
Commissioned: 6 June 1987
Decommissioned: still in active service
Displacement: 9,600 long tons (9,800 t)
Length: 567 ft - 173 m
Beam: 55 ft - 16.8 m
Draught: 34 ft - 10.2 m
Propulsion: four General Electric LM2500 type gas turbine engines, 80,000shaft horsepower (60,000kW); 2 x controllable-reversible pitch propellers; 2 x rudders
Speed: 32.5 kn (37.4 mph; 60 km/h)
The capacity of people on board: a total of 400 men
Armament: 2 x 61 cell Mk 41 vertical launch systems
8 x RGM-84 Harpoon missiles
2 x Mk 45 Mod 2 5-in/54-cal lightweight gun
2x 25 mm Mk 38 gun
2-4 x .50 cal (12.7 mm) gun
2 x Phalanx CIWS Block 1B
2 x Mk 32 12.75-in (324 mm) triple torpedo tubes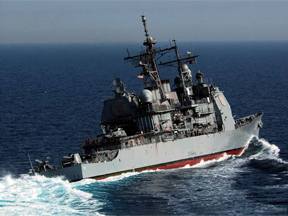 Asbestos Risk on the USS Antietam (CG-54)
Asbestos exposure in the US Navy was possible in several ways: during the shipbuilding process within shipyards, during repairs and consolidation work, or during the shipbreaking process. In the 20th century, many ships were built with asbestos-containing products like gaskets, valves, turbines, engines, or pipes due to the fire-retardant properties of asbestos. As the two world wars required the construction and refurbishment of hundreds of ships, naval workers and war veterans were daily put at risk while working around contaminated products, especially if they were damaged during battles, and the vessels were sent back to the shipyards for reconditioning. General Electric Company was one of the main suppliers for this ship since the vessel was fitted with four General Electric gas turbine engines. This company focused its business on manufacturing electrical products like cables and wires, furnaces, or turbines, which were coated with asbestos to prevent them from catching fire.
Have You Been Exposed to Asbestos on the USS Antietam (CG-54)?
This website is specially created to provide you with a rich database of asbestos-contaminated ships. You will also find information on the asbestos use within the US Navy and the list of shipmates for each ship presented here. Should you decide to file for compensation claims after your asbestos cancer diagnosis, we can help by contacting you with qualified lawyers.