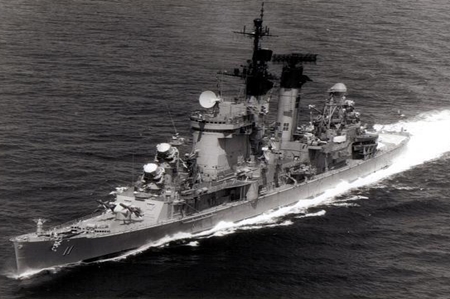 The USS Chicago (CA-136) was a Baltimore-class heavy cruiser commissioned by the U.S. Navy for service in World War II. The ship sponsored by Mrs. Edward J. Kelly, wife of the Mayor of Chicago, Illinois, was laid down on 28 July 1943 at Philadelphia, Pennsylvania, U.S., by the Philadelphia Navy Yard, and launched on 20 August 1944. Designed for long-range and high-speed, this ship model was handcrafted from the finest Philippine mahogany and sealed to last for generations. The USS Chicago (CA-136) was placed in commission on 10 January 1945, with Captain Richard R. Hartung, USN, in command.
Technical Features of the USS Chicago (CA-136)
Class and type: Baltimore-class heavy cruiser
Launch date: 20 August 1944
Commissioning date: 10 January 1944
Decommissioning date: 6 June 1947
Displacement: 13,600 Tons
Length: 674 ft
Draft: 20 ft
Beam: 70 ft
Speed: 33 knots
Complement: 1,142 officers and enlisted
Propulsion: 120,000 SHP; G. E. Geared Turbines; 4 screws
Armament: 9 x 8"/55 and 12 x 5"/38 caliber guns, 48 x 40mm and 24 x 20mm guns, 4 aircraft
History of the USS Chicago (CA-136)
Heavily armed and capable of faster speeds, the Baltimore cruisers were mainly used in World War II to protect the fast aircraft carriers in battle groups from air attacks. Their 8-inch main guns and secondary 5-inch guns were regularly used to bombard land targets in support of amphibious landings. Added to the anti-aircraft screen, the USS Chicago (CA-136) guarded the Task Group's carriers as they conducted airstrikes against the Tokyo Plains area, Honshu, Japan, on 10 July. Two days later, after refueling the Task Group, she returned to the Japanese coast and launched airstrikes against airfields, shipping, and railways in the northern Honshu and Hokkaido areas. On 14 July 1945, the USS Chicago (CA-136) was part of a bombardment force that included several battleships and nine destroyers. She closed northern Honshu to bombard the Kamaishi industrial area.
The USS Chicago (CA-136) left the U.S. and returned to the Far East in January 1946. From 18 February to 28 March, she served as the flagship of the Yangtze Patrol Force then became the flagship of the Naval Support Force, Japanese Empire Waters, until 14 January 1947 when she departed for the U.S. On 6 June 1947, she was decommissioned and placed in reserve.
On 01 November 1958, the ship was reactivated after being converted to an Albany-class CG and towed to San Francisco for the conversion work. Designed to provide long-range air, surface, and sub-surface defense for task forces, the vessel was recommissioned in her new role in May 1964 at the San Francisco Naval Shipyard and assigned to Cruiser-Destroyer Flotilla Nine, Pacific Fleet. A few months later she joined the First Fleet and used to test out the new missile systems.
The USS Chicago conducted seven deployments, including operations in the Western Pacific, the Red Sea, and the Persian Gulf. Arriving home on 8 July after the 5th Vietnam deployment, the ship underwent a local availability before entering Long Beach Naval Shipyard on 25 August for a Complex Overhaul. During this refit, the USS Chicago received new digital fire control systems, replacing the old analog computers, installed new missile launchers, and expanded her electronics equipment.
On 1 March 1980, the cruiser was decommissioned in San Diego. Towed to the Inactive Ship Facility at Bremerton, Washington, she was held in reserve until 8 February 1989. She was sold for scrap in 1991. The USS Chicago received the seventh consecutive "E" for excellence in missilery and also was awarded the Meritorious Unit Commendation for her efforts in developing the PIRAZ concept on her Western Pacific cruises in 1966 and 1967-68, and the Navy Unit Commendation for Vietnam Service, the Arleigh Burke Fleet Trophy.
Asbestos Risks on the USS Chicago (CA-136)
The demand for materials with exceptional fire-proofing or insulation properties was higher in the U.S. Navy than in any other military branch. Because asbestos was used in so many applications and areas in the Navy, many veterans found themselves exposed to the carcinogen daily during their military service, from serving on the ship to stripping vessels in shipyards.
Tons of asbestos-containing materials were used on all classes of U.S. Navy vessels because of their incombustibility, low thermal conductivity, tensile strength, and high resistance to heat and chemical damage. Much of the asbestos exposure occurred in closed-spaced areas such as boiler rooms and engineering spaces. Damage controlmen, machinist mates, electricians, firemen, and boiler tenders, worked regularly in these poorly ventilated spaces, thus being directly exposed to the harmful mineral.
Even if there were health risks associated with the use of asbestos as early as the 1930s, the mineral continued being incorporated in ships until the 1970s. The hazardous mineral can cause a series of severe illnesses including lung cancer, mesothelioma, and asbestosis decades after the microscopic asbestos fibers were inhaled. Navy veterans who served aboard ships may first begin to notice a problem 20 to 50 years after being exposed to asbestos, leaving them unaware of their condition until symptoms become noticeable.
Serving on the USS Chicago (CA-136), or assisting in the construction, repair, renovation, or demolition, is consequently a risk for contracting asbestos-related diseases. We highly recommend you consult a doctor immediately if you experience any associated symptoms.
Have You Been Exposed to Asbestos on the USS Chicago (CA-136)?
Did you help build or serve the U.S. in the Navy aboard the USS Chicago (CA-136)? If so, then you were most likely exposed to high levels of asbestos. Our website is designed to help veterans see if their ship or shipyard poses a threat to them. Please contact us for assistance if you're a veteran diagnosed with asbestos-related cancer.