The USS Washington (CVN-73) is a Nimitz-class aircraft carrier. Much like other ships of this specific type, the USS Washington was mainly preoccupied with providing shelter and artillery to aircraft units.
Benefitting from a full-length flight deck by design, the vessel acted as an at-sea base for the fleet it served.
Over the course of its service, the USS Washington received many awards, among which is the Global War on Terrorism Expeditionary Medal, offered as a way to recognize the efforts of those who have contributed to the Global War on Terrorism from 11 September 2001 in overseas deployments.
Technical Features of the USS George Washington (CVN-73)
Class and type: Nimitz-class aircraft carrier
Launch date: 21 July 1990
Commissioning date: 4 July 1992
Status: in active service
Displacement: 100,000 t full load
Length: 1,092 ft
Draft: 37 ft
Beam: 252 ft
Speed: 30+ kts
Complement: 5617 officers and enlisted
Propulsion: four propellers, 260,000 shp
Armament: two Sea Sparrow launchers, two RAM systems, three Phalanx CIWS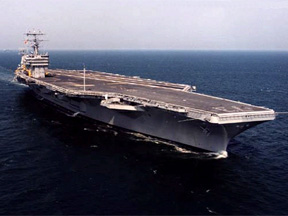 History of the USS George Washington (CVN-73)
The USS George Washington was built by Newport News Shipbuilding. It was sponsored by Barbara Bush, the First Lady at the time, and commissioned in July 1992 at the Naval Station Norfolk. Next year, the USS George Washington was elected as the flagship for Cruiser-Destroyer Group 2.
In 2000, they took part together in Exercise Destined Glory, coordinated by NATO, but also in a few other operations, such as Operation Deny Flight, Operation Joint Endeavor, Operation Southern Watch, and Operation Vigilant Resolve. In the following years, the ship would also participate in Operation Enduring Freedom and in Operation Iraqi Freedom. By 2004, the USS George Washington was already on its sixth deployment, and at that time, it was operating in the Persian Gulf.
In January 2005, the vessel was dry-docked to undergo Drydocking Planned Incremental Availability. All of the operating systems on board were upgraded to newer models, and the hull also received maintenance work. The overhaul lasted for a period of 11 months, a time that the crew spent doing a total of over 20,000 hours of community service for Newport, Virginia.
In December 2005, it was made public that George Washington was going to replace Kitty Hawk as a U.S. Yokosuka Base in Japan, which meant that the vessel would become the first nuclear-powered warship that would be stationed permanently outside the continental United States.
In April 2006, the vessel departed Norfolk to join Partnership of the Americas, an initiative launched by the United States Southern Command that has the responsibility of improving and maintaining security for Central and South America. This particular deployment was focused on conducting counter-drug operations in the Caribbean Sea but also on training alongside Latin American Navy units.
In 2008, George Washington was finally on their way to Yokosuka, Japan, to take the place of Kitty Hawk. To reach its destination, the vessel had to adjust to sailing around South America since it was too large to take the route of the Panama Canal, as warships that were smaller in size usually did. During this course, the ship took part in joint military exercises with the Argentine and Brazilian Navy troops.
On 22 May 2008, as George Washington was sailing off the Pacific Coast of South America, there was a fire on board that wounded 37 sailors, and although there were no deaths caused by it, Navy officials still referred to it as a serious incident. A statement given by their public affairs staff explained that the fire erupted in the air-conditioning and refrigeration rooms, and it was completely put out after 12 hours. Four days later, the ship docked at the Naval Air Station North Island in San Diego, California, in order to undergo repairs.
Between 2 and 6 August 2009, George Washington visited Singapore as a way to spend their period of rest and recreation after having been taking part in community projects such as landscaping local community centers, schools, and the locations of organizations meant to help the disabled.
In July 2010, the ship was at Busan in South Korea to make a port call, and afterward, it took part in the exercise Invincible Spirit in the Sea of Japan together with the United States Airforce and the Republic of Korean Airforce and Navy. The exercise took place in the Sea of Japan in an attempt to appease China in its view of not having military training missions in the Yellow Sea.
In 2011, in the aftermath of the Tohoku earthquake and tsunami, George Washington rushed to offer assistance, and by April of that same year, it was back at its berth at Yokosuka.
In November 2013, the vessel was involved in another humanitarian action when its entire strike group sailed to the Philippines for Operation Damayan after the area had been struck by Typhoon Haiyan. The George Washington, among other American naval units, provided supplies and launched its aircraft for search and rescue operations.
In August 2017, the ship was dry-docked and scheduled for a Refueling and Complex Overhaul that is supposed to be completed by August 2021, when the George Washington will re-enter service until its planned decommissioning in 2042.
Asbestos Risks on the USS George Washington (CVN-73)
That asbestos was sweeping over the U.S. market in the first half of the 20th century might seem surreal now, but the fact is that the low cost of the mineral, along with it being mined in a large number of mines across the country, determined manufacturers to keep finding ways to incorporate asbestos into as many products as possible.
Such initiatives were not just corporate greed on display since the idea of expanding the uses of asbestos was supported by the versatility of the material. Asbestos was flexible yet strong, which meant that it could be added to other mixtures to increase their durability while allowing them to also preserve a certain non-corrosiveness quality. Additionally, the mineral was not easily flammable, which made it ideal for high-temperature spaces.
All these properties played a big part in the U.S. armed forces, particularly the Navy, acquiring them in great amounts. Navy ships, for example, were essentially coated in asbestos insulation. When it deteriorated over time, however, it crumbled, creating dust and implicitly releasing toxic asbestos fibers into the air.
Have You Been Exposed to Asbestos on the USS George Washington (CVN-73)?
If you did duty for the U.S. Navy on board the USS George Washington (APA-73) and you have been diagnosed with a cancerous asbestos disease, there is a probability that your time in service is what caused the illness to develop. We can help veterans file asbestos claims by connecting them with legal experts.