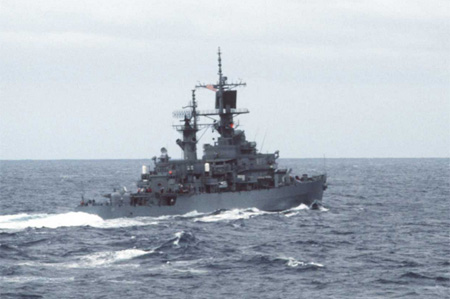 USS Jouett (CG-29) was the fourth ship of the Belknap class of guided missile cruisers, named after Rear Admiral James Edward Jouett, an officer in the United States Navy during the Mexican-American War as well as the American Civil War.
Having been equipped with modern antisubmarine detection and missile warfare gear, the ship operated in the waters of the Western Pacific, with its homeport in San Diego, California, and had twelve total deployments during which it received multiple Battle Effectiveness Awards and several unit citations, including the Navy Unit Commendation and two Meritorious Unit Commendations for its service in the US Navy.
Technical Features of the USS Jouett (CG-29)
Class: Belknap-class cruiser
Launched: June 30, 1964
Commissioned: December 10, 1966
Decommissioned: January 28, 1994
Length: 547 ft
Beam: 54 ft
Propulsion: 4-1200 psi boilers; 2 General Electric geared turbines
Speed: 30+ knots
Aircraft: one SH-2F helicopter
Armament: two Mk 141 Harpoon missile launchers; one Mark 42.5 in/54 guns; two 3 in/50 guns; six 15.5 in torpedo tubes; two 20mm Phalanx CIWS; one Terrier missile/SM-2ER launcher
History of the USS Jouett (CG-29)
The USS Jouett (CG-29) was laid down in September 1962 by Puget Sound Naval Shipyard in Bremerton, Washington. The ship's sponsor was Mrs. S. J. Ervin, wife of the Senator from North Carolina, and it was commissioned in December 1966 with Captain Robert S. Hayes in command.
The vessel was assigned to the Cruiser-Destroyer Force, US Pacific Fleet in February 1967, and early its missions consisted of Search and Rescue operations as well as keeping under surveillance the aircraft operating over North Vietnam and the Gulf of Tonkin during the Vietnam conflict.
The USS Jouett was reclassified as a guided missile cruiser in June 1975 and had several deployments in the Indian Ocean and the Middle East, where it served in the Arabian Sea during the 1979 hostage crisis, Operation Desert Shield, and it was also part of the initial US Force to arrive in the Middle East following Iraq's invasion of Kuwait in early August 1990.
In September 1993, the ship participated in the Ballistic Missile Defense Organization's first LEAP Missile firing on the West Coast 1993 and launched a kinetic kill vehicle into outer space, which is a small satellite designed to intercept and destroy incoming ballistic missiles inside or outside the Earth's atmosphere.
The USS Jouett was decommissioned in January 1994 at San Diego and transferred to the Maritime Commission to be placed in the reserve fleet at Suisun Bay, California. It was withdrawn from the fleet in August 2007 and towed to the Pacific to be used as a target ship during
Operation Valiant Shield. The ship's remains are now at a 7500-meter depth in the Pacific.
Asbestos Risks on the USS Jouett (CG-29)
Due to its many beneficial properties and ease of use, asbestos was present in large quantities on the USS Jouett as well, just like most other US Navy ships at the time. A lot of the laborers working with and around pumps, boilers, valves, gaskets, and turbines on Navy ships at the time were now showing symptoms of asbestos exposure and getting diagnosed with serious asbestos-related diseases such as asbestosis, mesothelioma, and lung cancer. Most of these victims were not given any kind of protective gear when working in that environment for weeks or months at a time, stripping asbestos insulation off the pipes while being completely unaware of the dangers that they were exposed to and the consequences that they would have to endure decades later.
Have You Been Exposed to Asbestos on the USS Jouett (CG-29)?
If you would like more information about your exposure on the US Navy ship USS Jouett (CG-29) and get a better understanding of the problems you may be facing, call us. If you're a Navy veteran diagnosed with asbestos-related cancer,??you are eligible for compensation and may file claims with asbestos trust funds and the VA. If you decide to take legal action, we can put you in touch with attorneys experienced in successfully filing claims.