During its almost 50 years of serving in the US Navy, the USS Kitty Hawk was very active.
In her first years of service, the ship was mainly used for training exercises in Yokosuka and Hong Kong.
It also participated in Operation Checkertail in 1963 and hosted President John F. Kennedy on board, who wanted to witness a carrier task force weapons demonstration on the California coast.
History of the USS Kitty Hawk (CV-63)
Class and type: class aircraft carrier
Laid down: 27 December 1956
Launched: 21 May 1960
Commissioned: 29 April 1961
Decommissioned: 12 May 2009
Displacement: 61,351 long tons (62,335 t) standard; 91,985 long tons (83,301 t) full load
Length: 1,068.9 ft (325.8 m)
Beam: 282 ft (86 m) extreme; 130 ft (40 m) waterline
Draft: 38 ft (12 m)
Propulsion: Westinghouse geared steam turbines; 8 x Foster Wheeler steam boilers; 4 shafts; 280,000 shp (210 MW)
Speed: 33 knots (61 km/h)
The capacity of people on board: a total of 5,624
Armament: RIM-7 Sea Sparrow missiles, 2 x RIM-116 RAM, 2 x Phalanx CIWS Automated Anti-Missile/Aircraft Defenses
Aircraft carried: 85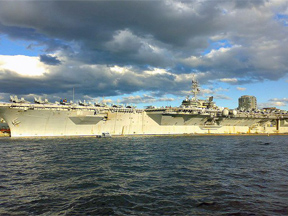 The ship appeared in Lt. Robin Crusoe, a Walt Disney comedy, in 1966 but the cinematographic experience did not last because the vessel returned to its missions in San Diego. It was very active during the Vietnam War, and it was even involved in a racial riot on board when 200 sailors broke out, and nearly 50 were injured. After this incident, the USS Kitty Hawk was the subject of many transformations and upgrades regarding the systems on board. In 1979, the ship was involved in WESTPAC deployment, searching and offering help to refugees who were escaping the Socialist Republic of Vietnam. For the services brought to the country during its service, USS Kitty Hawk received 74 battle stars and many awards.
Asbestos Risk on the USS Kitty Hawk (CV-63)
Many products from this ship were built with asbestos and were provided by companies that confirmed they used this mineral to manufacture products for the shipbuilding process. For instance, the Westinghouse geared steam turbines were provided by Westinghouse Electric Company which focused on turbines, cables and wires, packing material, gaskets, and cloth. The Foster Wheeler steam boilers were manufactured and provided by the Foster Wheeler Corporation. The company specializes in construction materials like cement but also in boilers and generators.
The most dangerous areas on a ship with the highest risk of asbestos exposure were the engine and boiler rooms. There, the air was poorly ventilated, which facilitated the inhalation of airborne asbestos fibers. The risk was also high near damaged asbestos-containing products. In addition, a lot of products were damaged during fights and needed repairs. The maintenance work was also risky due to the innovations brought into the shipbuilding process that required even more asbestos to insulate the damaged parts of a ship that might heat up during their performance.
Have You Been Exposed to Asbestos on the USS Kitty Hawk (CV-63)?
If you worked on the USS Kitty Hawk or worked at the construction of this vessel, you were most likely exposed to asbestos. Veterans who have developed cancer due to their service qualify for compensation, and we can help you file claims by connecting you with expert lawyers. This website will help you find your shipmates, but it will also provide you with all the information you need regarding the use of asbestos in the US Navy.