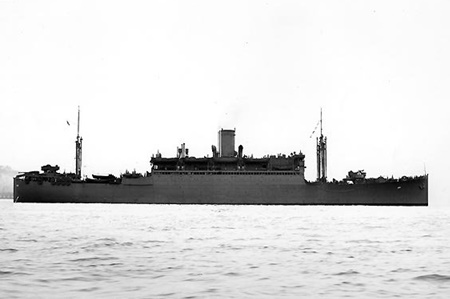 The USS Wharton was a troopship in the service of the US Navy during World War II. Initially laid down as Manmasco, the ship was renamed as Sea Girt and in 1921 as Southern Cross. The ship was acquired by the Navy on 8 November 1939 and converted into a troopship by the Todd Shipbuilding Corporation. She was renamed Wharton and designated with the hull number AP-7. The ship was converted into a troop transport and commissioned as the USS Wharton at the New York Navy Yard on 7 December 1940, with Capt. Elroy L. Vanderkloot in command.
Technical Features of the USS Wharton (AP-7)
Class and type: Wharton Class Transport
Launch date: 20 July 1919
Commissioning date: 7 December 1940
Decommissioning date: 26 March 1947
Displacement: approx. 12,250 tons
Length: 636 feet (133.2 meters)
Draft: 31 feet (6.1 meters)
Beam: 72 feet (22 meters)
Speed: 16,61 + knots
Complement: 665 (officers and enlisted)
Propulsion: steam turbines
Armament: 8 x 0.5 in machine guns and 4 x single 5"/ 38 caliber guns
History of the USS Wharton (AP-7)
The USS Wharton departed New York on 7 January 1941, bounded for Guantanamo Bay where she conducted a sea trial before proceeding to her home port, Mare Island, California. She was assigned to the Naval Transportation Service and transported service personnel, their families, and cargo from San Francisco, San Diego, and Pearl Harbor. On 6 January 1942, the USS Wharton sailed to the Hawaiian Islands to her first wartime trip, followed by a series of transports. The troop transport returned to the west coast for an overhaul till October. From December 1942 to February 1943, the ship transported troops from Seattle, Washington to Dutch Harbor and Kodiak and returned with patients, civilians, and troops. In the same year, she made five more voyages to the Southwest Pacific. In January 1944, the USS Wharton took part in the Marshall Islands operation. In February at Eniwetok the troopship received an additional duty as a hospital ship, transporting patients for treatment and transferring to other facilities before sailing to Kwajalein on 25 February. From August 1942 to February 1943 the ship took part in training exercises with Transport Division 8. On 17 July 1943, the troopship disembarked her assault troops in Guam. The USS Wharton performed yeoman service off the beaches till 29 July when her part in the Guam operation was completed and headed for Eniwetok with 519 patients on board. On 7 January 1945, the troopship transported cargo and troops to support the operations of the invasion of the Philippine Islands. The troopship took part in the operations of the Okinawa invasion, arrived offshore on 19 May and disembarked troops and Army nurses. The USS Wharton conducted three more trips under "Operation Magic Carpet" to the western Pacific through the end of 1945 to pick up Army, Navy, and Marine Corps veterans and return them to the US. The ship made one more trip in 1946 under "Operation Magic Carpet" to Yokosuka, Japan. The USS Wharton took part in "Operation Crossroads". The ship transported observers to Bikini Atoll for the atomic bomb tests. On 11 March, the Secretary of the Navy authorized the USS Wharton's disposal. The ship was decommissioned on 26 March 1947.
Asbestos Exposure on the USS Wharton (AP-7)
A number of veterans who served in the US Navy during World War II were exposed to asbestos during their military service. Asbestos was extensively used on Navy ships, between the 1930s up to mid-1970s being present everywhere in sleeping quarters, mess halls, engine rooms, boiler rooms, propulsion rooms, and damage control rooms. Asbestos was found in over 80% of the Navy ships used during World War II. Like other troopships of her time, the USS Wharton (AP-7) was built with asbestos-containing materials. Asbestos was used in the shipbuilding industry for its resistance to corrosion, water, and high temperatures and it was present in every area of the ship, in hundreds of ship parts and equipment including turbines, boilers, steam lines, pumps, condensers, evaporators, deck material, and electrical equipment. Navy veterans with a high risk of asbestos exposure include those who repaired or removed asbestos-containing ship parts or worked in the lower areas of the ships, in the pump rooms, boiler rooms, engine rooms, or in the damage control rooms.
Asbestos Risks on the USS Wharton (AP-7)
Prolonged exposure to asbestos can cause a series of life-threatening diseases such as mesothelioma, and asbestosis. Oftentimes, asbestos-related diseases are misdiagnosed and mistreated. If you are a veteran who served on the USS Wharton (AP-7) and you experience symptoms like a persistent, dry cough, shortness of breath, wheezing, chest pain or tightness, we strongly recommend you to consult a specialist as soon as possible. Our team will connect you with the most reliable professionals in your area, whether you are seeking medical help or financial compensation. We can also help you in getting in contact with your former shipmates. For more information, please call us at 760.621.6147.