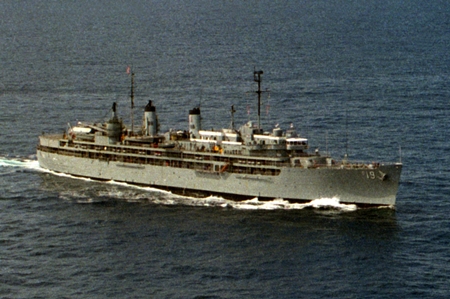 The USS Yosemite (AD-19) was a destroyer tender built at Tampa Shipbuilding Company, Tampa, Florida, during War World II. This class was intended to provide maintenance support to a destroyer fleet or other small warships. The basic hull and superstructure for this class were the same as the Fulton-class submarine tenders and Vulcan-class repair ships.
The fourth U.S. Navy ship to bear the name, the USS Yosemite (AD-19) was laid down on 19 January 1942 and launched on 16 May 1943. The ship was sponsored by Mrs. Melville W. Powers and placed in commission on 25 March 1944, with Captain George C. Towner in command.
Technical Features of the USS Yosemite (AD-19)
Class and type: Destroyer depot ship
Launch date: 16 May 1934
Commissioning date: 26 March 1944
Decommissioning date: 27 January 1944
Displacement: 14,037 tons (lt), 17,176 t.(fl)
Length: 530 ft 6 in
Draft: 25 ft 6 in
Beam: 73 ft 4 in
Speed: 19.6 knots
Complement: Officers 73; Enlisted 1,003
Propulsion: Geared turbine, twin screws, 11,300 hp
Armament: 4 x 5 in/38 caliber dual-purpose guns, 8 x single 40mm guns, 23 x 20mm guns
History of the USS Yosemite (AD-19)
In August 1944, the USS Yosemite (AD-19) made a voyage to Fort Pond Bay, New York, to load torpedoes. The ship headed south to Guantanamo Bay and thence proceeded to the Panama Canal Zone, transited the Panama Canal, and arrived at Balboa. From there, the ship continued her voyage west to Hawaii and arrived in Pearl Harbor on 29 August 1944.
On 25 May 1945, the destroyer tender which served with the United States Navy during World War II through to the 1990s bounded for Leyte Gulf in the Eastern Visayan region in the Philippines. A few days later, she arrived in San Pedro Bay and resumed her work supporting the Fleet in its march toward Japan. The USS Yosemite (AD-19) became the flagship for the new command, Cruiser-Destroyer Force, Atlantic Fleet, and she served in that capacity from 17 June 1946 until the spring of 1962. During that sixteen-year period, she spent most of her time in port at Newport, Rhode Island, though on occasion she did make voyages to the West Indies. In 1959, she departed Newport for a brief tour of duty tending the ships of the U.S. Sixth Fleet.
The USS Yosemite (AD-19) was decommissioned and simultaneously stricken from the Naval Vessel Register on 27 January 1994, and from December 1999, she was at the Naval Inactive Ship Maintenance Facility at Portsmouth, Virginia, awaiting sale to a foreign government. During the drydocking of the aircraft carrier USS Enterprise (CVN-65), the Enterprise crew members from the reactor department removed berthing and other small components from the USS Yosemite (AD-19) for re-use aboard the Enterprise. On 18 November 2003, the ship was expended as a target, sunk at a depth of 14,040 feet.
Asbestos Risks on the USS Yosemite (AD-19)
Asbestos was found in over 80% of the Navy ships used between World War II and the late-1970s, even though the builders have declared the ships to be asbestos-free. Like other ships of her time, the USS Yosemite (AD-19) was built with asbestos-containing materials.
Asbestos was prized for its resistance to heat, water, fire, and corrosion, so it could be found in virtually every area of the ship in hundreds of applications including steam lines, pumps, boilers, condensers, evaporators, turbines, deck material, and electrical equipment.
Navy veterans that encountered asbestos include those who renovated or removed asbestos-containing products and worked in shipyards or in the lower areas of the ships such as engine rooms, boiler rooms, and pump rooms.
Asbestos can cause a series of severe illnesses including lung cancer, mesothelioma, and asbestosis after asbestos fibers are inhaled. Oftentimes, diseases that stem from asbestos exposure are asymptomatic, misdiagnosed, and mistreated. A chest X-ray is needed to find signs such as scarring, nodules or lung spots. These are the early warning indicators that asbestos fibers are in your lungs.
We strongly advise you to seek medical attention as soon as possible if you experience symptoms such as a persistent, dry cough, loss of appetite with weight loss, shortness of breath, chest pain, or tightness. The effects of an asbestos-related disease can be injurious and victims will need as much support as possible to help them endure the consequences.
Have You Been Exposed to Asbestos on the USS Yosemite (AD-19)?
Veterans who served during World War II are most likely to develop asbestos-related conditions. If you think you were exposed to asbestos while serving aboard the USS Yosemite (AD-19), you may still be at risk of developing asbestos-related illnesses. We can help you understand how asbestos exposure occurred during the time of your service in the U.S. Navy. We can also assist you in finding former colleagues. To learn more, call us at 760.621.6147.